FEA EQUI-TRAINING PROGRAM
THE NEXT LEVEL:

SUPPORTING INTERACTION BETWEEN OWNERS, TRAINERS, AND RIDERS



A PARADIGM SHIFT IN TRAINING HORSES
PROPOSED STRATEGY FOR BETTER TRAINING RESULTS
(V1D – SUBJECT TO CHANGE WITHOUT NOTICE)

---
• VISUAL (CLICK HERE FOR LARGER PDF VERSION)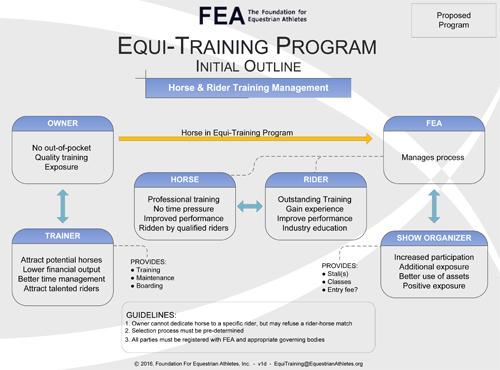 ---
• BASIC PROGRAM GUIDELINES & SPECIFICATIONS
As this program is to facilitate the safe training of horses while promoting the development of talented riders, the program's specifications have been set to clearly show the elements needed to make it successful:
FEA will determine the final criteria, outline what is expected from each party, and define what each will get out of the program.
The Evaluation Team will review each case and the parties involved to ensure adherence to guidelines, and that everyone is working towards the desired outcome.

FEA will respect the desire of a horse owner to work with or refuse specific trainers and riders.

An Agreement of Understanding (AOU) will be prepared to the satisfaction of parties involved: horse owner, trainer, rider, and FEA. To be accepted and committed to in good-faith, the AOU will include the details of what is expected of each, what will be made available, and what each one will receive in return.

A standard Release of Liability / Hold Harmless Agreement will also be signed by the parties.

A trial period will be agreed upon between the parties. A report will be filed with FEA by trainer after such period.

A training & show schedule will be established, with monthly or quarterly evaluations to be filed with the FEA Team for case evaluation.

The relationship may be renewed for additional periods of time, if/when desired and appropriate.

The AOU may be terminated at any time by either party with 14-day notice in normal circumstances, or without notice if judged necessary.

FEA is serving as a facilitator only and cannot be held responsible for unforeseen outcomes.
For more Info, or to Recommend or Register a OWNER, please CLICK HERE
For more Info, or to Recommend or Register a TRAINER, please CLICK HERE
For more Info, or to Recommend or Register a RIDER, please CLICK HERE
---
• FOR MORE INFORMATION
For a complete analysis or more information, please contact FEA: EquiTraining@EquestrianAthletes.org